Frank burns himself to death at his job in protest against the inhumane working conditions.
Two stories emerge from this tragic incident. Léa, Frank's wife, who is searching for the truth. Igor, an employee who finds the dead body and steals the letter of protest for fear of losing his job.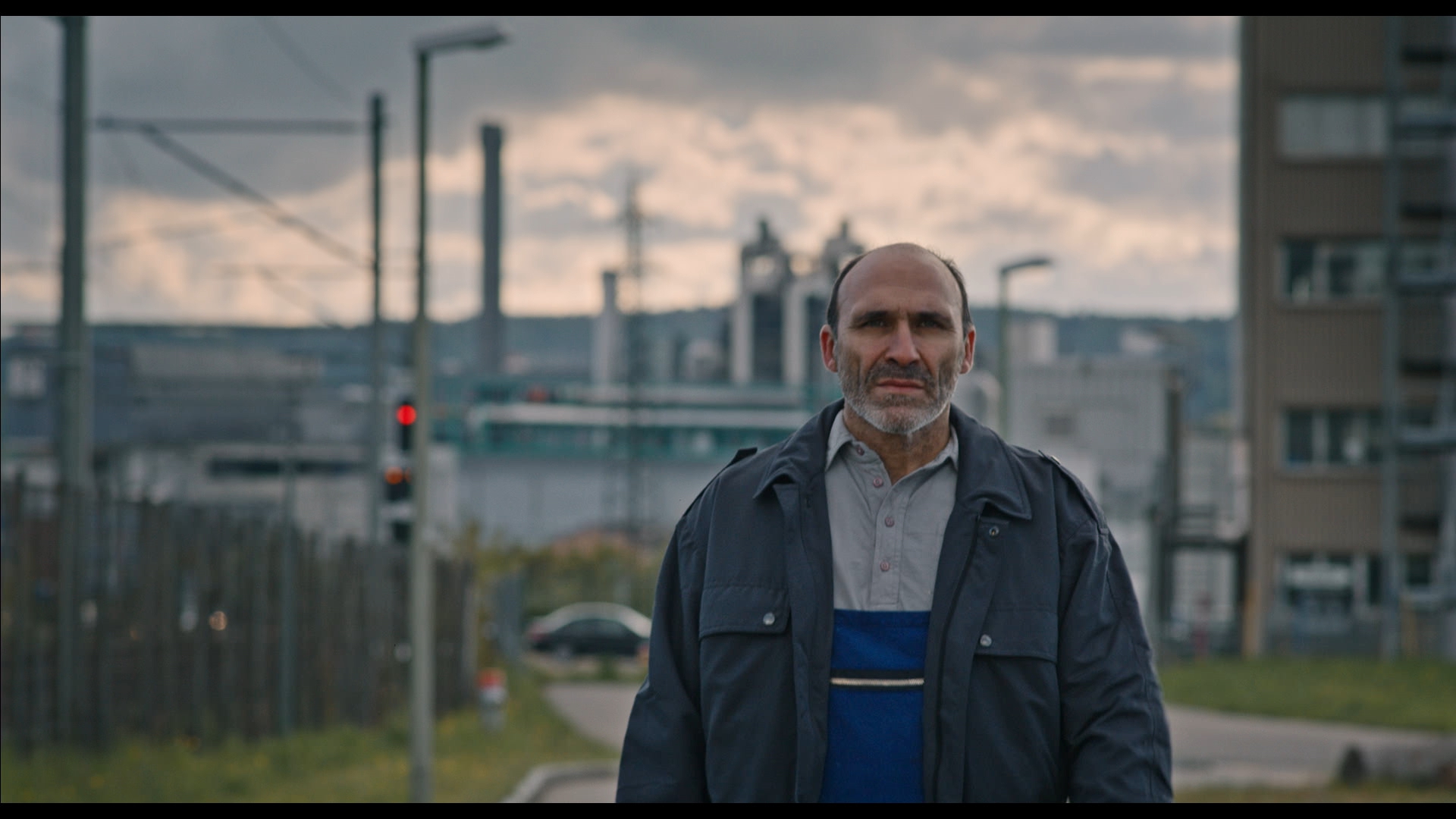 Watch online
The film is available on sofy.tv.

Awards
2019 Swiss Film Award
* Best Graduation Film
2019 Festival de cinema de mujeres, FEMCINE
*Special Mention
2018 Festival International du Film de Fribourg
* Foreign Visa Prize
2018 Festival Un poing c'est court
* Prix de la Francophonie
2017 International Leuven Kort Film Festival
* Audience Award – European Competition
2017 International Student Film & Video Festival of Beijing Film Academy (ISFVF) * Audience Award – International Competition
2017 Festival international des Signes de Nuit
* Edward Snowden Award
2017 First Steps Awards Berlin
*nominated as best mid-length film
2017 Studio Hamburg Nachwuchspreis
* nominated as Best Short Film
Festivals
2019
Swiss Film Awards 2019 / * Best Graduation Film
Leiden International Short Film Experience / International Competition
Columbus International Film + Animation Festival / Student films competition
Flickers' Roving Eye International Film Festival, Rhodes Island / International competition
Itinérances – Festival de Cinéma 2019 / International short films competition
FEMCINE 2019, Santiago de Chile / International short films competition
*Special Mention
22nd International Film Festival ZOOM , Zblizenia, Poland 2019 / International Competition
2018
Aesthetica Short Film Festival York 2018 / International Competition
Geneva International Film Festival 2018 / Programm New Screen Talent
Festival Européen du Film Court de Nice 2018 / European Competition
15th Provinziale Film Festival Eberswalde 2018 / International short films competition
71st Locarno Film Festival 2018 / Academy Screenings
Festival Partie(s) de Campagne, Ouroux-en-Morvan 2018 / International competition
32nd Festival International du Film de Fribourg 2018 / competition Foreign Visa Prize
* Award Foreign Visa Prize
40th Festival de court-métrage de Clermont-Ferrand 2018 / Panorama Switzerland
Un poing c'est court, 18th Festival du Film court de Vaulx-en-Velin 2018 / International competition
* Prix de la Francophonie
2017
23rd International Leuven Kort Film Festival 2017 / European competition
* Audience Award European Competition
Filmz, Festival des Deutschen Kinos 2017, Mainz / Best mid-length film competition
Camerimage, International Film Festival Bydgoszcz, Poland 2017 / Student Etudes Competition
16th International Student Film & Video Festival of Beijing Film Academy (ISFVF) 2017 / international competition
* Audience Award
15ème Festival international des Signes de Nuit, Paris 2017 / international competition
* Edward Snowden Award
First Steps Awards Berlin 2017 / nominated in the category best mid-length film
International Film Festival LA Shorts Fest 2017 / in competition
Studio Hamburg Nachwuchspreis 2017 / nominated in the category Best Short Film
52. Solothurner Filmtage / in competition: Upcoming Talents
38. Filmfestival Max Ophüls Preis / in competition category: best mid-length film
Technical informations
Genre: Drama
Year of production: 2017
Color
Length: 29 min
Shooting Format: ARRI Alexa
Aspect ratio: 1.85:1
Sound: Surround 5.1 / Stereo
Screening Format: DCP / HDCam SR / HDCam / Blu Ray
Language: French
Subtitles: Englisch, Deutsch
Cast
IGOR Antonio Buil
LÉA Isabelle Caillat
BLANC Frédéric Landenberg
VICTOR Eliot Spicher
ANNIE Nathalie Jeannet
ALOÏS Pierre-Isaïe Duc
FRANK Nicolas Rosat
FACTORY DIRECTOR Emanuel Fabris
FACTORY EMPLOYEE Guy Pillonel
Crew
Screenplay & direction Wendy Pillonel
Cinematography Ramón Königshausen
Production Design Emanuel Bühler, Anna Deborah Gerber
Costumes Anna Deborah Gerber
Editing Fleur Matson
Sounddesign Benoit Barraud
Music Jakob Eisenbach
Executive Producer Peacock Film Milena Colla
Supervision Elena Pedrazzoli
Co-producer ZHdK Filippo Bonacci
Line Producer Rea Televantos
Production Management Elias Dellers

Assistant director Diego Hauenstein
Second assistant director Elena Brotschi
Script / Continuity Luisa Ricar
Coach Kid Myriam Streiff
Assistant camera Natascha Vavrina
Second assistant camera Ennio Ruschetti
DIT Daniel Loepfe
Steadicam operator Sebastian Geret
Additional camera Kevin Rodriguez
Moon Images Erwin Jaklitsch
Chef electrician Esther Mattei
Best boy Lukas Graf
Electrician Pascal Reinmann
Additional Electricians Hae-Sup Sin, Jonathan Hug, Robin Angst
Grip Kim Allamand
Assistant Production Design Magdalena Vollmer
Props Pia Meier
Additional Helpers Production Design Delia Keller, Rahel Baumann, Annina Berger, Annatina Huwiler, Lara Hausheer, Eva Wottreng
Constructions Fabian Lüscher, Noam Zucker
Make up & SFX Marina Aebi
Make up assistant Anna Winter
Costumes Assistant Jeanne Bourguigon, Martina Meclova
Sound Engineer Benoit Barraud
Stunt Manuel Schweizer
Stunt Assistants Marcel Stucki, René Von Gunten
Set manager Jennifer Vogel
Assistant set manager Basil Roth
Runner Selina Weber
Additional Runners Anna Furrer, Jonathan Hug, Myriam Streiff, Kirstin Reppas, Noah Van Dok
Catering Nina Schaufelberger – Bio für Jede / Wiroon Wongratchatanan / Samuel Nussbaum
Set Photographers Nicolas Brodard, Flavio Karrer
Musicians Jakob Eisenbach, Dalia Elena Klinkmann
Music mix Max Molling
Assistant editing Daniel Loepfe
SFX Valentin Huber
Colorgrading Ramón Königshausen
Mix Gregg Skerman
Graphism Studio 31 Tage – Niklaus Knecht, Johannes Inauen, Dennis Ginsig, Philip Bührer
Subtitles Sandra Gomez
Casting Wendy Pillonel
Mentoring Ursula Meier
Special thanks to
Rainer Klose / EMPA – Laboratoire fédéral d'essai des matériaux et de recherche
Juliette Pillonel
Rolando Colla
Thanks to
Alan Fitzpatrick – Alireza Bayram – Annie Gisler – Benoît Frachebourg – Camilla Flores D'Arcais – Chanelle Eidenbenz – Christa Locher – Clara Ruffolo – Cosima Frieden – Daniel Schenker – Douve Frieden & Philippe Spicher – Erwin Pieper – Esther Aeschlimann – Fabienne & Joël Maillard – Francisco Alvarez – Gabi Cattin – Géraldine Zosso – Jasmine Hoch – Jean-Daniel Bohnenblust – Jean-Marc Métrailler – Jérôme Furrer – Laure Cordonier – Lena Lessing – Lorenz Suter – Maria Clara Blanc – Maria Sigrist – Marinho Da Silva – Martin Maillard – Melanie Matthieu – Muhamed Hajdarbasic – Romana Friedli – Samuel Kuntz – Sandra Haenggeli – Simon Gutknecht – Steven Matthews – Stéphane Kuthy – Sébastien Teti – Victor Felder – Yasmin Joerg – Zachary Matteucci
HEAD – Genève – Jean Perret, Stéphane Lacour, Marie-Elsa Sgualdo
Fonction: Cinéma – Genève
Ateliers Clément – Yvan Schouwey
Le Beaulieu, Payerne – David Chassot
Profilpresse – Adrian Trottmann
Immobilienfirma Auwiesen – Eric Allmendinger
Restaurant Sonnenfeld Winterthur
Poushe Strudelhaus
Bäckerei Kleiner – Zürich
Bäckerei Steiner – Zürich
SAHB von Brüttisellen
PMU Romand
Extras
Albert Brändle – Ali Zigeli – Athavan Ramanan – Betty Camenzind – Chris Haefeli – Christoph Gross – Dominik Gysi – Dominik Wolfinger – Doris Wiesendanger – Dylan Lim – Erwin Pieper – Felma Pieper Dumadag – Francesco Scilingo – Franz Stebler – Gerlinde Arand – Gianni Bertossa – Hans Grütter – Heinz Nauer – Jeremy Lim – Julie Pillonel – Jürg Bahnmüller – Katia Pfister – Keanu Lim – Laurent Auberson – Lea Altorfer – Leila Kneubühler – Leo Fehr – Manuel Joss – Martin Maillard – Mia Suarez – Michael Eberle – Michael Golanda – Michelle Bass – Mussa Signer – Nathalie Müller – Norbert Gubser – Paola Gagliardi – Pascal Roelofse – Pascal Schleiss – Patrick Messner – Rainer Klose – René Hidber – Roger Kolly – Samuel Misteli – Sarah Brügger – Severin Lutz – Sibylle Marti – Simone Wildi – Sophia Waigel – Tina Schmid – Tsering Margey – Urs Heber – Valentina Roncorroni – Vreni Meier – Wiroon Wongratchatanan
Realized in the programm of the Master of Arts in Film / Zürcher Hochschule der Künste
Direction Markus Imboden
Technique camera Andreas Birkle
Technique equipment Gian Courtin
Technique postproduction Norbert Kottman, Robin Wenger, Ralph Wetli
Administration Claudia Hürlimann D'Amato
With the support of
L'Office Fédéral de la Culture (OFC), section cinéma
Zürcher Filmstiftung
Cinéforom – Fondation Romande Pour Le Cinéma
Loterie Romande
Katholischer Mediendienst
© Peacock Film / ZHdK / 2017