A collective documentary film directed by Camille Budin, Annie Gisler, Jela Hasler, Thaïs Odermatt, Wendy Pillonel, Anna Thommen and produced by Judith Lichtneckert & Liliane Ott.
Award winning project of the Migros-Kulturprozent CH-Dokfilmwettbewerb 2021
Available on VOD on Play Suisse from June 14th 2022.
In Swiss theaters from November 18th 2021!
Informations about the screenings.

One year after the national women's strike, the issue of equality is far from settled. In the collective documentary LES NOUVELLES ÈVES, six filmmakers delve into the everyday lives of six women from different professions and explore what it means to be a woman in today's Switzerland. Alternating glimpses into the lives of these "everyday heroines" show how the protagonists consciously resist role attributions and fight for their personal goals – even against social barriers. An exciting and illuminating look at a highly topical subject.
Movie reviews: Cineuropa – Basler Zeitung – Migros Engagement – Tagesanzeiger – La Liberté – Le Courrier
Interview with Wendy Pillonel on Radio Cité Genève.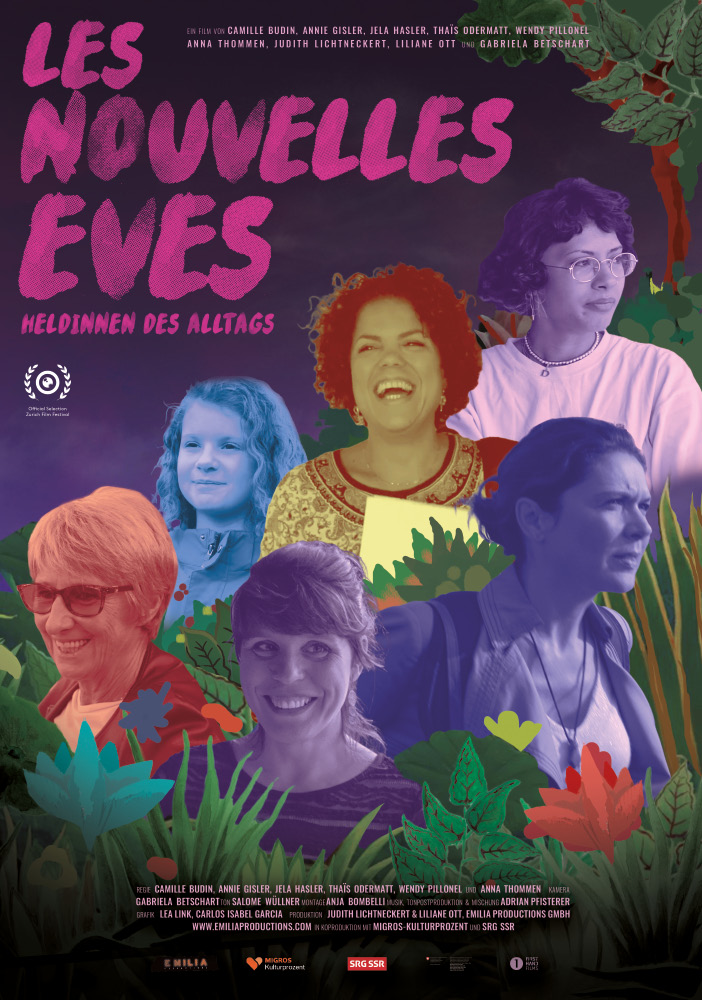 Technical informations
Genre: Documentary
Year of production: 2021
Color
Length: 80 min
Shooting Format: HD
Aspect ratio: 16:9
Sound: Stereo
Language: Swiss German, German, Italian, French, Spanish
Crew
Written and directed by: Camille Budin, Annie Gisler, Jela Hasler, Thaïs Odermatt, Wendy Pillonel, Anna Thommen
Producers: Judith Lichtneckert, Liliane Ott
Cinematography: Gabriela Betschart
Editing: Anja Bombelli
Sound: Salome Wüllner
Music: Adrian Pfisterer
Production: Emilia Productions GmbH in co-production with SRG SSR
Distribution: First Hand Films
Find the film in the Swiss Films Database.
Screenings
Zurich Film Festival, 2021
Awards
TV Broadcasts
Sunday June 19th 2022 at 23:30 on SRF1.
Sunday June 19th 2022 at 22:55 on RTS2.
Available on VOD from June 14th 2022 on Play Suisse
Presse
Pressemitteilung Preisverleihung Migros-Kulturprozent 2021
Communiqué de Presse Lauréats pour cent culturel Migros 2021
© Emilia Productions 2021