It hasn't rained for years and the Earth has dried out. Human beings live in cliffs. One day, Riham finds his father dying in the desert. The boy decides to look for water to save him. His sister Marine wants to prevent him because the sun makes people go crazy. However, a mysterious engineer maintains that he knows where the water is hiding.
Festivals
Bangalore Short Film Festival 2014, India
Upcoming Filmmakers, 2014, Lucerne
International Student Film & Video Festival of Beijing, 2014, China
Ascona Film Festival, 2015
Festival du film étudiant Québec, 2015
The 4th International Water and Film Event, 2015, Daegu, South Korea
International Nature Film Festival 2015 Gödöllő, Hungary
Gässli Film Festival, 2015, Basel
Innsbruck Nature Film Festival 2015, Austria
Awards
1st Prize at the Innsbruck Nature Film Festival in the category Best Short Film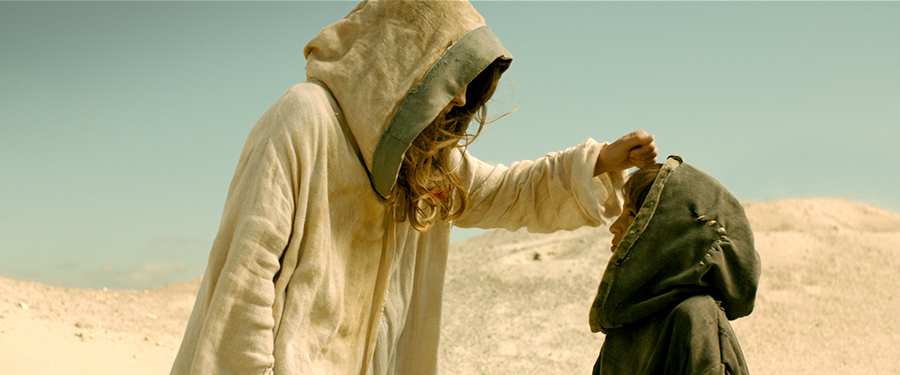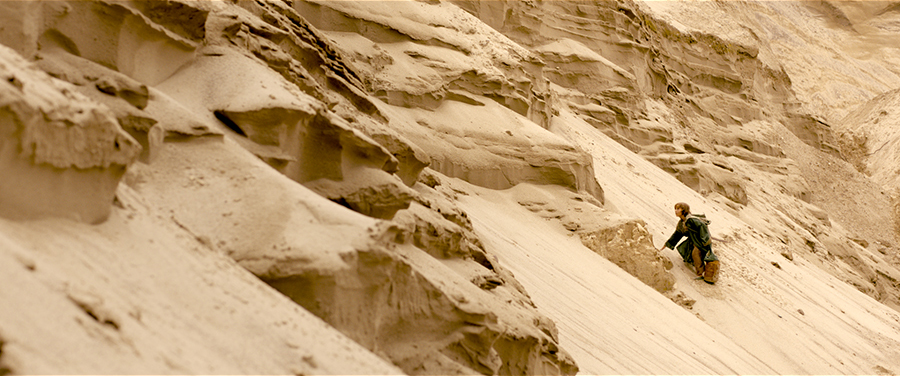 Statement
What remains in a world where there is no hope anymore?
Due to their naivety children are capable to believe that they can change things. I developed the point of view of a kid, who tries to achieve the impossible in a hopeless world. I played with the different layers of the concept « mirages ».
Mirages is the third part of a science-fiction trilogy I made during my studies at the ZHdK. In the three films I dealt with the subject of the illusion and how human beings always create goals to block out the uselessness of their existence.
Technical informations
Genre: Fiction
Year of production: 2014
Color
Length: 14 min 52
Shooting format: ARRI Alexa
Aspect ratio: 2.35:1 (16:9 Letterbox)
Sound: Dolby 5.1 / Stereo
Screening Format: DCP / HDCam SR / HDCam / Blu Ray
Language: French
Subtitles: English, German
Cast
Riham Léon Ducret
Marine Plume Ducret
Dad Guy Pillonel
Ingenieur Bartek Sozanski
Apothecary Patrice Gilly
Crew
Screenplay and Direction Wendy Pillonel
Cinematographer Tom Keller
Executive Producer Elias Dellers
Assistant Director Annie Gisler
Second Assistant Director Sami Khadraoui
Location Manager Cédric Perler
Set Manager Anna Furrer
Script / Continuity Manuela Rüegg
Coach Kids Charlotte Henderson, Julie Pillonel
Production Design Nicole Frei, Claudia Marolf, Helen Schläpfer, Jessica Schmid
Costume Design Irene Schweizer
Tailor Noemi Stoll
First assistant camera Christian Mathis, Simon Wottreng
Second assistant camera Cyrille Gsell, Johannes Bachmann
Chef electrician Tom Keller
Electricians Jérôme Furrer, Mathieu Werlen, Linus Rieser, Ilir Hasanaj
Sound Engineer Benoit Barraud
Runners Raphaël Balestra, Mélanie Gobet, Jan-Peter Horstmann, Florian Nagel, Matthias Sahli, Patrice Steinmann, Myriam Streiff, Juliette Pillonel, Guy Pillonel
Catering Angelo Balestra, Claudine Balestra, Cosima Frieden, Camille Lambert, Damian Clavel, Noémie Fragnières
Location Scouting Juliette Pillonel
Editor Yasmin Joerg
Assistant Editor Fabienne Andreoli
Matte Painter Florian Baumann (cheese & chocolate)
Computer Generated Imagery Tom Keller
Graphistes Sophie Haller, David Neuenschwander
Additional Help Benjamin Blunschi
Photography Spain Victor Felder
Colorgrading Ralph Wetli, Ellen Pony Wild
Sound Design Benoit Barraud
Sound Mixer & Music Gregg Skerman
Thanks to the locations
Gravel pit Catellani SA in Granges-Marnand and every staff member
Hermitage de la Madeleine and particularly Peter Mersch
Abbaye d'Hauterive and particularly Frère Marc and Frère Claude
Special thanks to
Victor Felder, Guy Pillonel, Juliette Pillonel, Manuèle Ducret, Alain Jotterand
Thanks to
Schiessverein Düdingen and particularly Patrick Wider
Thommen Recycling AG, Kaiseraugst
Bellevue Apotheke, Zürich and particularly Roman Schmid
K. Müller AG, Wallisellen
Verpackungsmarkt für den Selbstvermarkter, Brislach
Zivilschutzanlage Gurmels
Théâtre de Vidy and particularly Samuel Marchina
FTK Filmtechnikerkollektiv and particularly André Simmen
Madeleine Huwiler, Lukas Rast, Jean-Robert Gisler, Daniel Felder, Agnès Jobin, Ruben Dellers, Miquet Tinguely, Clara Ruffolo, Isabelle Baudet, Marie-Eve Hildebrand, David Maye, Gilles Baeriswyl, Angelo Balestra, Claudine Balestra, Jérôme Furrer, Luca Ribler,Flo Baumann, Caroline Feder, Remie Blaser, Ramòn Königshausen, Mirjam Zimmermann, Leandro Russo, Laura Stocker, Carmen Bayer, Je Helsdon, Nik Knecht, Fabian Lutz, Johannes Frei, Pius Mächler, Bauern von Salen-Reutenen, Pierre-Olivier Bachmann, Yves Seger, Gian Courtin, Claudio Pavan, Jennifer Vogel, Werner Steiner, Jovanka Orlovic, Andi Birkle, Filippo Bonacci, Robin Wenger, Rebecca Siegfried, Lisa Strautmann, Pasquale Rutishauser, Flavia Müller, Leonie Gschwend, Corina Lampert, Miguel Sampayo, Melanie Lang, Jelena Mair, Michael Eberle, Noemi Bartha, Barbara Lobeck, Manuel Gleyre, Sophie Hostettler, Clara Blanc, Marie-Laure Monney, Julie Pillonel, Martin Maillard, Benoît Ducret
With the support of Foundation Mercator, program « Engagier dich! »
Individual Project, AIP
Fall semester 2013-2014
Project Direction Christian Iseli
Project Mentor Stefan Jäger
Line Producer Filippo Bonacci
Department Bachelor of Arts in Film
Direction Bernhard Lehner
© ZHdK Bachelor of Arts in Film 2014