In a future where the sea doesn't exist anymore and where adults imitate things from the past, dozens of children are building sand pies on an artificial beach. Only 12-year-old Estelle looks at a wall on which the sea is painted. Thibaud, her peer, approaches the girl and pretends he can see the things that no longer exist…
Festivals
Shnit Festival 2012, Bern
Kurz und schön 2012, Köln, Germany
48. Solothurner Filmtage 2013, Soleure
Swiss Panorama 2013, Sao Paulo, Brazil
Amalty Film Festival 2013, Kazakhstan
Jugendfilmtage 2013, Zürich
Aesthetica Short Film Festival 2013, York, UK
Ascona Film Festival, 2014
Festival du film étudiant Québec, 2014
Ciné Globe, Meyrin, 2014
Festival de Cinéma de la Ville de Québec, 2014
Innsbruck Nature Film Festival 2014, Austria
The 4th International Water and Film Event, 2015, Daegu, South Korea
TV broadcasts
17.11.2012, at 23:45 on WDR Westdeutscher Rundfunk | Köln
23.12 2012, at 22:25 on WDR Westdeutscher Rundfunk | Programm Eins Festival | Köln.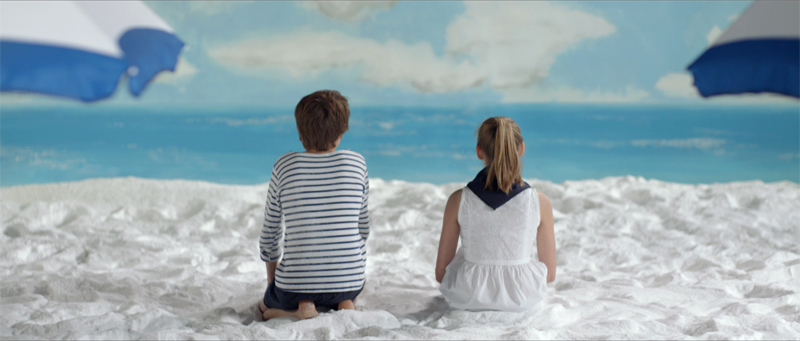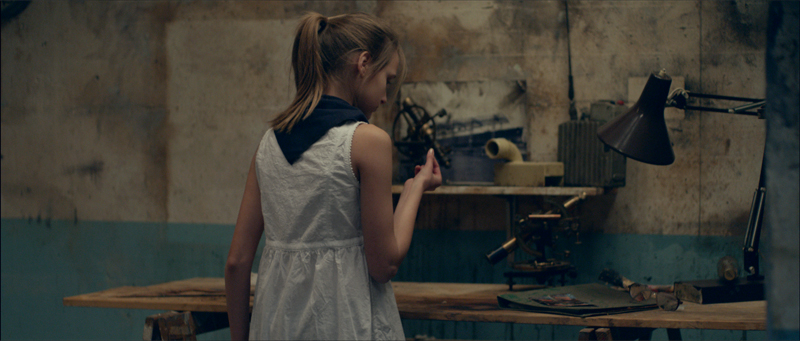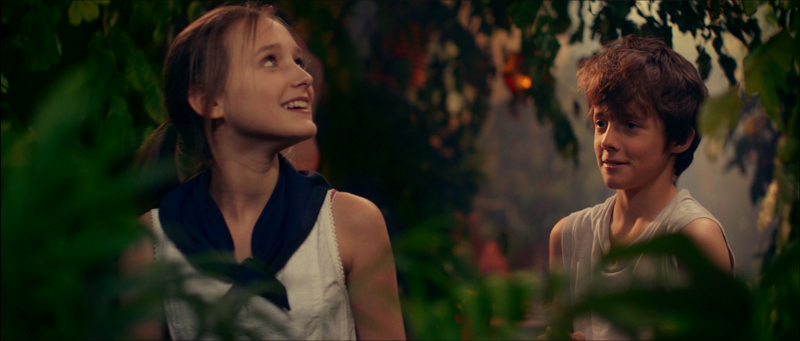 Statement
Parachutes takes place in a future where the sea doesn't exist anymore and where adults imitate things from the past. The shortfilm features two children for whom the reality is not enough anymore. They try to escape the world in which they live. With the film I wanted to question the complexity of reality and to play with different levels of illusion.
Technical informations
Genre: Drama
Year of production: 2012
Color
Length: 5 min 50
Shooting format: ARRI Alexa / 35 mm
Aspect ratio: 2.35:1 (16:9 Letterbox)
Sound: Dolby 5.1 / Stereo
Screening Format: DCP / HDCam SR / HDCam / Blu Ray
Language: French
Subtitles: English, German, Italian
Cast
Thibaud Luandès Brandt
Estelle Éléonore Jenny
Extras
Ramona Burgener, Lisa Burger, Jay Flammer, Laura Flammer, Luisa Freiermuth, Pauline Knappe, Fabio Leisinger, Liv Lenzin, Nicolas Mennel, Leah Müller, Fanny Ries, Jim Ries, Filippa Ries, Noelia Romera, Ainhoa Romera, Marie Schreiner, Niklas Schreiner, Lena Seger, Adrian Siegmann, Alexander Siegmann, Lucretia Siegmann
Crew
Screenplay and Direction Wendy Pillonel
Cinematographer Tom Keller
Set Design Stefanie Frey, Sophie Stalder
Editor Pascal Griesshammer
Assistant Director Cosima Frei
Second Assistants Director Scherwin Amini, Luca Zuberbühler
Location Manager Cécile Schüpbach
Script/Continuity Annie Gisler
First assistant camera Valentino Vigniti
Second assistant camera Lukas Graf
Chef electrician Tomasz Kadlubowski
Electricians Marius Mahler, Fabian Lütscher, Ninian Green, Sarah Jüstrich, Aurelio Buchwalder, Simon Pfister, Michael Iseli
Sound Benoit Barraud
Make up & Garderobe Gabriella Farkas
Set- Photography Olivier Christe
Runners Nicole Boner, Pierre Tschopp, Lisa Gerig, Guy Pillonel
Catering Perrine Necker, Bigna Tomschin
Coach Kids Martyna Daniel
Sound Mixer Gregg Skermann
Producer Filippo Bonacci
© ZHdK Bachelor of Arts in Film 2012